Summer Band Camp - 2024

Join Us for Summer Band Camp
Dates: Monday thru Friday, June 10 – 14, 2024


About our Band Camp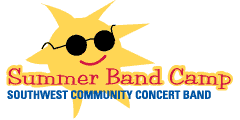 Join us for Summer Band Camp 2024, sponsored by the
Southwest Community Concert Band (SWCCB) . The SWCCB
Summer Band Camp, which was started in 2007, is open to junior high/middle school students from incoming 6th grade through
incoming freshmen. Students participating in the camp are
required to have at least one full school year of performance
experience in their school band. The instructors are dedicated,
highly qualified music educators / performers from the Chicago
area. The goal of our Summer Band Camp is to promote music
education in a well-structured, positive, fun and safe environment
helping students to develop and expand their musical talents.

All students who partake in this week-long camp will receive:
Daily full concert band rehearsals

Instrumental ensembles

Sectional/Master classes

Optional Jazz Band or Music Appreciation sessions
along with a camp t-shirt and the overall experience of our unique program.

Summer Band Camp will be held at Saint Francis of Assisi, at the Religious Education Center on the hill, located at 15050 Wolf Road in Orland Park. Band Camp begins each day at 8:30 AM and ends at 3:00 PM. Campers are asked to bring their own lunches for Monday thru Thursday. Assorted cold beverages will be available for $1.00 each day. On Friday, a pizza lunch will be served and is included in the camp fee.

Band Camp culminates in a Camp Finale Concert, which takes place on Friday evening at 7:00 PM.

Band Camp Schedule

Monday thru Friday (June 10 thru 14)

Starts at 8:30 AM and ending at 3:00 PM

- Friday there is an hour Camp Finale Concert starting at 7:00PM

(a detailed schedule is available in the Band Camp brochure)


Band Camp Fee

Early Bird Program Fee - prior to May 31, 2024 - $300

Program Fee after May 31, 2024 - $325

All fees must be received before June 3, 2024

Please include a copy of your on-line registration form or a completed downloadable registration form, a completed liability release form with your check or money order payable to the Southwest Community Concert Band.

ALL STUDENTS MUST HAVE A COMPLETED RELEASE FORM IN ORDER TO PARTICIPATE IN THIS PROGRAM.
Summer Band Camp registration fee – Ways to save $$




*Special offer $25 Discount to attend Summer Band Camp 2024 (read carefully)

1. Enclose a note with your name and that of your friends when you mail your registration fee.

2. Friend must be someone who has never attended SWCCB Summer Band Camp.

3. Only (1) one $25 friend discount will be offered per returning student to camp.

4. You and your friend must register and pay for Summer Band Camp before the May 31 deadline.

5. The $25 refund will be issued on the last day of Camp, providing both you and your friend are paid in full.

*Apply for a Southwest Community Concert Band Scholarship 2024

Go to the scholarships page and follow the application directions.

If you are awarded a scholarship to Summer Band Camp your registration fee will be refunded.

Please note that excesses in scholarships will be returned to the issuing organization, not the students.


*Gift Cards / Sponsor Gift Card now available for this event. Gift Card form.
Online Registration
Our online registration is CLOSED
Registration will be closing on June 3

Walk-in registrations are welcome.
Complete the registration form below, bring it and your registration fee to the first day of Camp.
Summer Band Camp Forms
Registration Form ( mail-in/walk-in registration with liability release form)
Liability Release Form (for on-line and brochure tear off registrations)


Mail to:
Southwest Community Concert Band - Band Camp
P.O. Box 244; Lockport, IL 60441-0244


Camp Location:
Saint Francis of Assisi
Religious Education Center (on the hill)
15050 Wolf Road; Orland Park, Il 60467
Cancellation Fees
$100 fee for cancellations made after June 1, 2024
NO cancellations accepted after June 3, 2024
Any questions can be directed to Jim Valtman at (630) 728-1130 or Ray Forlenza at (708) 417-1180

Thank you!